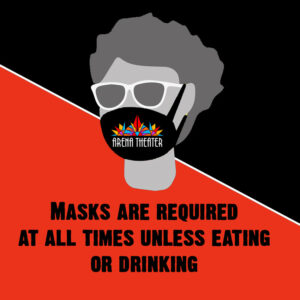 Arena Theater seeks to keep our patrons, staff and volunteers healthy.  We value our community's health and are following the Mendocino County and State of California public health guidelines. Please join us in maintaining the safety and health of our theater by honoring our mandatory mask and social distancing policy. Read more about our safety protocols below.
–As of November 1, 2021,  Arena Theater has posted a yellow sign which requires all staff of the theater to be vaccinated or tested weekly by order of the Mendocino County Public Health Officer.
–Click here to read more about our cleaning protocol, reduced seating, and air scrubbers of the same quality used by Redwood Coast Medical Services (RCMS).
–Attendees for all telecast programs must be fully vaccinated. These programs are: Met Opera Live in HD, Bolshoi Ballet in Cinema, Exhibition on Screen and National Theatre Live. Please show your vaccination card and a photo ID when you purchase your ticket.
Please check back for additional regulations and updates.
For more information, please contact the office at 882-3272 or email info@arenatheater.org.