MEDIA CAPABILITIES
Arena Theater strives to stay relevant in today's shifting technology, and is open to any suggestions (and donations!) on futher means to stay current with industry standards. The list below explains the film/video and audio capabilities of the Arena Theater. It also outlines the types of media that can be currently presented at Arena Theater.
---
EQUIPMENT
Screen: 26×12 feet, matte white, perforated, lace & grommet, Hurley MW-16
Speakers: 6-channel sound, L/C/R above stage, 2 subwoofers below stage, L/R surround along walls, L/R surround under balcony in ceiling, L/R surround above balcony; 9 amplifiers at stage right, 3 amplifiers in projection booth.
35 mm film: xxx projector, ?? lens types, optical Dolby stereo sound track, optical DTS sound track, (not optical Dolby Digital sound track).
DTS sound player: DTS-encoded audio discs suitable for 35 mm film playback.  DTS is Digital Theater System, a sound-encoding created by DTS Inc years ago to provide surround-sound audio for 35 mm films through synchronized CD playback.  First movie was Jurrassic Park!  The arena theater has a DTS player that gets its synchronization from a timecode track on the 35 mm film and feeds the Dolby CP500 sound processor with 6-channel sound as L/C/R/LS/RS/SW channels.
Blu-ray Disc player: Blu-ray disc and DVD-ROM, DVD-R, DVD-RW digital video formats, Dolby Digital sound**, Dolby stereo sound (capable of DTS sound, but not connected).
DVD/VHS video recorder/player: DVD-ROM, DVD-R, DVD-RW, DVD+RW, DVD+R, DVD+R DL digital video formats, VHS video format, CD audio format, Dolby Digital sound**, Dolby stereo sound (capable of DTS sound, but not connected).
Stereo cassette audio tape player: 8mm cassettes with Dolby stereo audio.
**Note:  presently, only the Blu-ray player supports 5.1 surround
sound and that is via its speaker outputs; with the installation of a
Dolby audio decoder required by the NCM Fathom service, we can take
Dolby Digital signals from 3 sources (Blu-ray player, DVD/VHS player,
and NCM Fathom) via AC3 TOSLINK cables into the decoder and then the
Dolby CP500 cinema processor; the DTS player will be daisy-chained
through the decoder for film sound operation.  Yet more switches —
replace one with two!
---
VIDEO FORMATS
Blu-ray disc: BD-ROM format for high-definition video (not HD-DVD).
DVD-ROM: common commercial video format.
DVD-RW, DVD-R: common computer-generated digital video formats.
DVD+RW, DVD+R, DVD+R DL: common computer and consumer digital video formats, both 12cm and 8cm formats.
VHS tape: common commercial video format.
DVI and VGA computer display: common laptop computer display formats (Macintosh and PC respectively).
---
AUDIO FORMATS
Dolby Digital: 5.1 channel AC-3 encoded digital audio.
Dolby Stereo: 2 channel encoded audio.
OPERA (and other streaming broadcasts)
With the debut performance of the NCM Fathom presentation of the Met Live in HD (High Definition) a few years ago, the Arena Theater enlarged its capacities and now has an expansive capability for presenting digital theater experiences, which have expanded to include Theater, Art, Dance as well as Opera.
---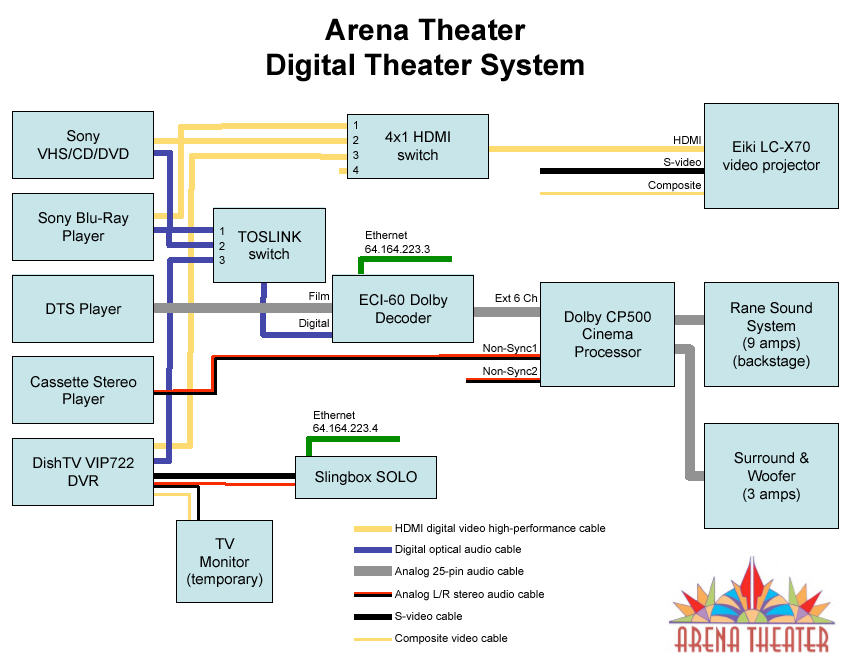 ---
For the NCM Fathom service, four new components were added:
— DishTV VIP722 DVR satellite receiver and recorder
— ECI-60 Electronic Cinema Interface with Dolby Digital decoder
— TOSLINK switch for selecting digital audio sources
— Slingbox SOLO for Internet connection to NCM Fathom control center
This expands and upgrades our digital theater capabilities:
— Blu-ray high-definition DVD with Dolby Digital surround sound
— conventional DVD with Dolby Digital surround sound
— CDs
— VHS tapes
— stereo cassette tapes
— 35 mm films with DTS surround sound
— HD video with Dolby Digital surround sound via NCM Fathom satellite broadcast
As you can see by the few lines that are not connected to anything, there are a couple of expansion opportunities, one HDMI cable that could be used for computer display via DVI or VGA connectors, and the stereo Non-Sync2 input to the Cinema Processor.  (The designers recommend against using the two projector cables because of adjustments required with the projector settings.)
The digital theater experience is controlled by push-button switches:
— HDMI 4×1 selects digital video from Blu-ray DVD, DVD/VHS, or satellite DVR
— TOSLINK 3×1 selects digital audio from Blu-ray DVD, DVD/CD/VHS or satellite DVR
— ECI-60 selects surround sound from DTS film sound player or TOSLINK switch
— CP500 selects sound from ECI-60 or cassette player
Thanks to Rick Beach, Eric Dahlhoff and Tim Brooks who designed and installed this technology.  And of course, thanks to the Payne Foundation grant that provided the funds to purchase all this gear!