DRIVE-IN CINEMA
Welcome to Arena Theater's Drive-In fundraiser for Arena Theater at the Arena Cove in Point Arena.
Please join us on Saturday, May 8, at 9 p.m., for a special screening of the award-winning feature, "Nomadland," starring Frances McDormand, directed by Chloe Zhao.
About the Event



The movie will start at 9 p.m.
Gate at the Cove opens at 8:15 p.m., and cars need to be in place by 8:50 p.m.
The  price for a ticket package is $100 for 2 people (over 2 is $50 ea, we recommend no more than 5 people per car).
The package includes:
-a pre-recorded Q&A with Frances McDormand preceding the movie
-popcorn/bottled drinks/water (1 large popcorn, 2 drinks per $100), pick up at the theater between 8 p.m. and 8:40 p.m., have your ticket ready
-delicious snacks from Bird Café and Supper Club, served on arrival at the gate
-A tour of the Nomadland filming location at Kenny Jowers and Robert Larsen's Manchester Ranch including the farm house and animals, on Sunday, May 9. There will be several tours of six persons each between 10 a.m. and 5 p.m. For tour schedules and to sign up email shauna@arenatheater.org

We have launched an auction for a special theater seat, donated by Frances McDormand in honor of Fern, her "Nomadland" character! The Bidding Owl auction is now open and will run until Sunday, June 16.

The link to the auction page

is now available, and you can place your bid. Click here to read a message from Frances McDormand.
At the Drive-in
We want to make sure that the drive-in will be a safe and enjoyable experience for our community. Before you order your ticket, please read the following carefully. It's important information that will answer many of your questions and give you instructions.
ARENA THEATER DRIVE-IN RULES
Masks and social distancing are a MUST! Please read the following for more details
ARRIVAL TIME
The movie will start at 9pm. Please arrive no sooner than 45 minutes before showtime. You will be checked in at the gate and guided to your parking space. Cars will be placed based on size of car; trucks will be parked in the back row. Cars must be in place 10 minutes before the movie starts. Space is limited, we ask that attendees come in regular sized vehicles when possible and avoid huge trucks. Thanks!
Each vehicle may only be occupied by members of the same social group who have already been in close contact with each other.
CONDUCT AT DRIVE-IN
You must remain in your vehicle at all times, except to visit the restroom (one person at a time, unless an adult is accompanying a child). You are required to wear facial coverings (masks) and practice social distancing at all times when outside your car. You cannot sit outside of your vehicle (no lawn chairs or watching from the back of your truck or hatchback).
ALCOHOL POLICY
This is an alcohol-free event, no alcohol is allowed on-site.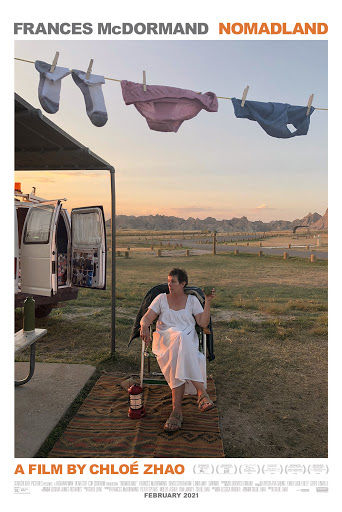 Nomadland
Arena Theater Fundraiser
Saturday, May 8, 9 p.m.
Drive-in at the Point Arena Cove

We're sold out!


$100 for 2 people
$ 50 for each over 2 people (we recommend no more than 5 people per car)
The ticket package includes:
-a pre-recorded Q&A with Frances McDormand preceding the movie
-popcorn/bottled drinks/water (1 large popcorn, 2 drinks per $100), curbside pickup at the theater between 8 p.m. and 8:40 p.m., have your ticket ready
-delicious snacks from Bird Café and Supper Club, served on arrival at the gate
-tour of the Nomadland filming location at Kenny Jowers and Robert Larsen's Manchester Ranch on Sunday, May 9.
Appointments between 10am-5pm. Sign up by emailing the office at shauna@arenatheater.org